Description
Discover the ground-breaking 49-inch super ultra-wide curved monitor from Samsung, with 32:9 aspect ratio. Giving you a more comfortable viewing experience and more realistic colours with Quantum dot and HDR technology. The CHG90 49" monitor make working in the office easy with powerful multi-tasking with picture-by-picture and easy setting software.
Display more of your documents
With its 32:9 aspect ratio the 49" super ultra-wide curved panel provides all the space you need to display more of your data-rich documents. The CHG90 offers a view so panoramic that you can keep many windows open at once and work comfortably with less scrolling and zooming.

No more dual-monitor inconvenience
Equivalent to two 27" monitors side by side, the super ultra-wide panel eliminates the need for traditional dual monitor setups with mismatched screens, awkward bezel breaks and multiple cables cluttering your office space. With the CHG90 QLED monitor, you can do it all on a single monitor.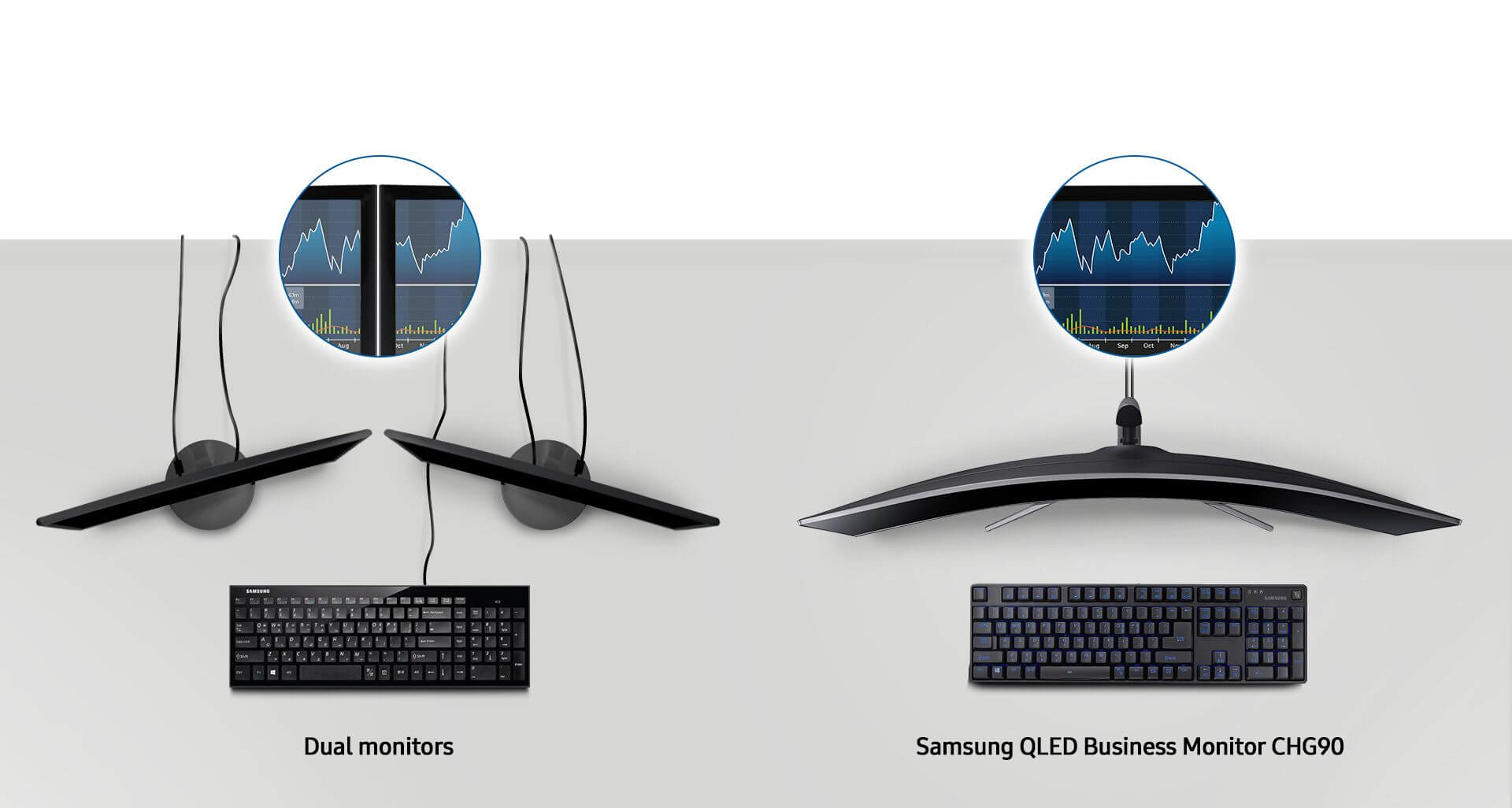 More lifelike color
HDR and Samsung's advanced QLED technology are capable of producing more realistic color than conventional monitor technologies. Which means that whatever the task in front of you, you can be sure the colors you see onscreen are truer to those around you.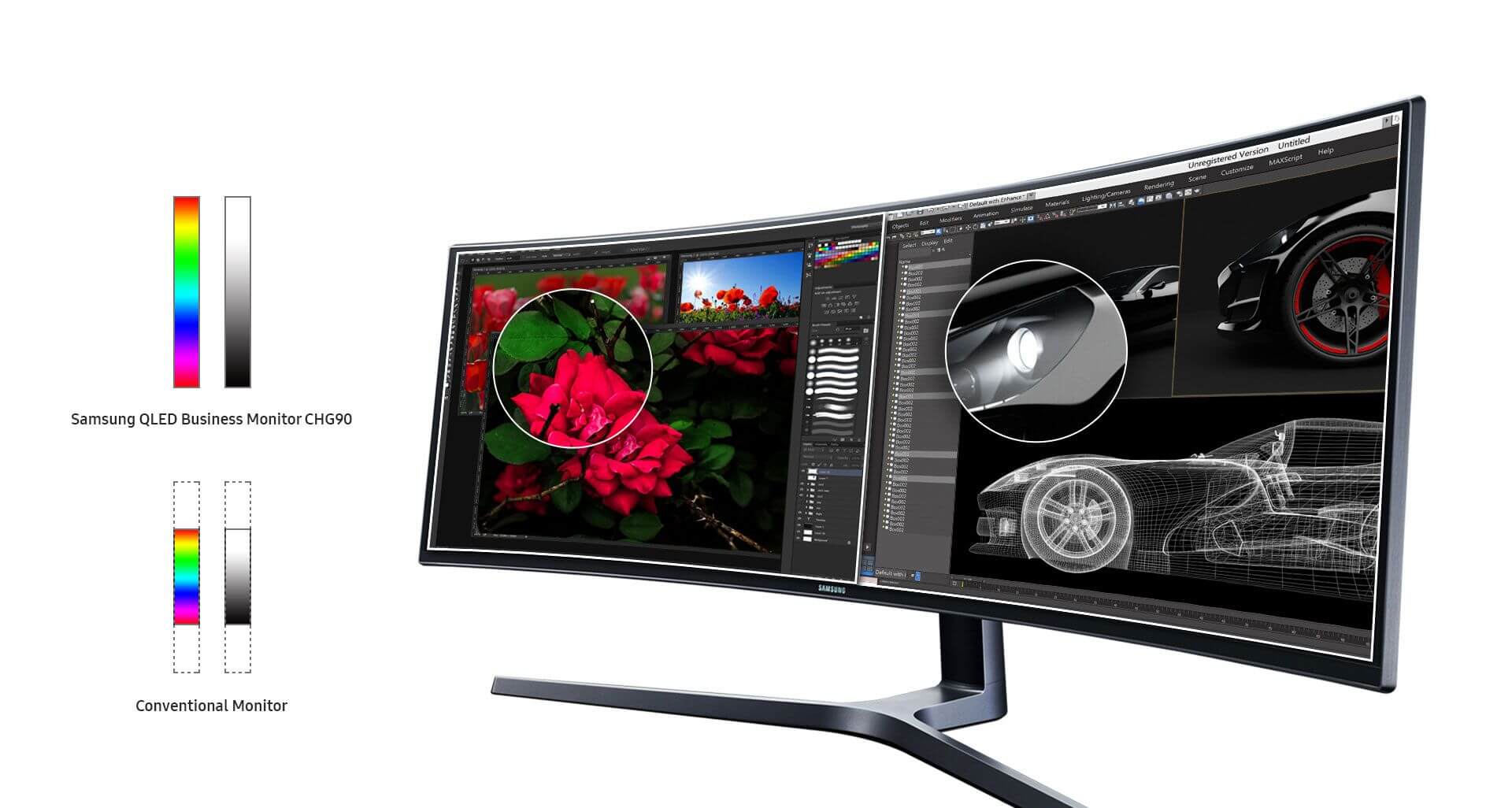 Maximum multitasking efficiency
The Picture-by-Picture function simultaneously displays input from different devices without losing any of the original image quality. You can simply hook up your Galaxy S8/S8+with the Samsung DEX Station to manage all your mobile content alongside other onscreen projects.
Work smarter with Easy setting box Soft Ware
With its intuitive interface and options designed for maximum efficiency, Easy Setting Box Soft Ware lets you quickly and easily partition the screen or display multiple screens of various sizes in a variety of configurations. Multitask smarter with Easy setting box.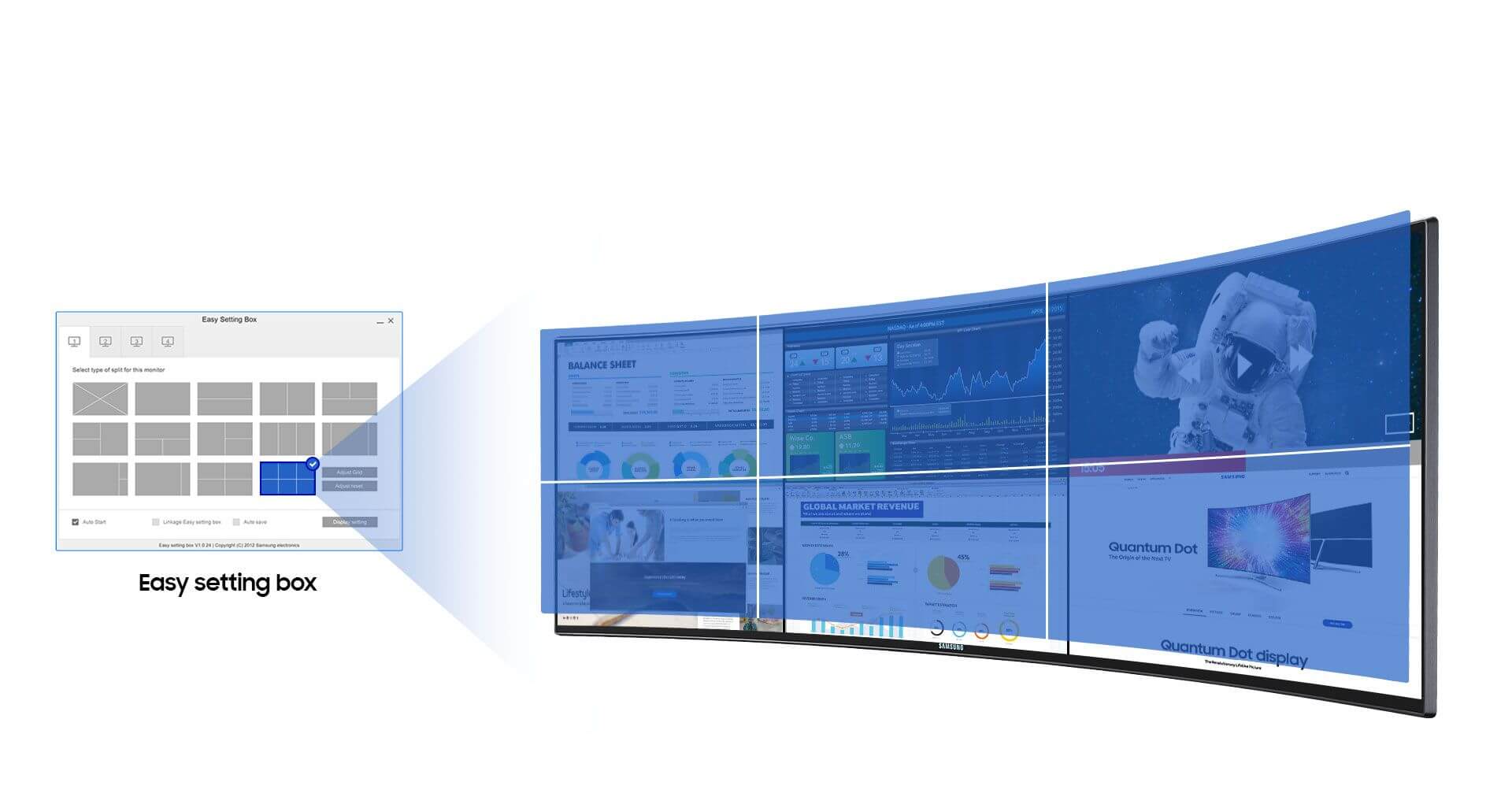 Ideal for long hours of work
Engineered to match the natural curvature of your eyes, the ergonomic 1800R curved panel offers enhanced viewing comfort compared to traditional flat screens. And Samsung's Flicker Free technology and blue light-reducing Eye Saver Mode minimize eye fatigue when working for extended periods.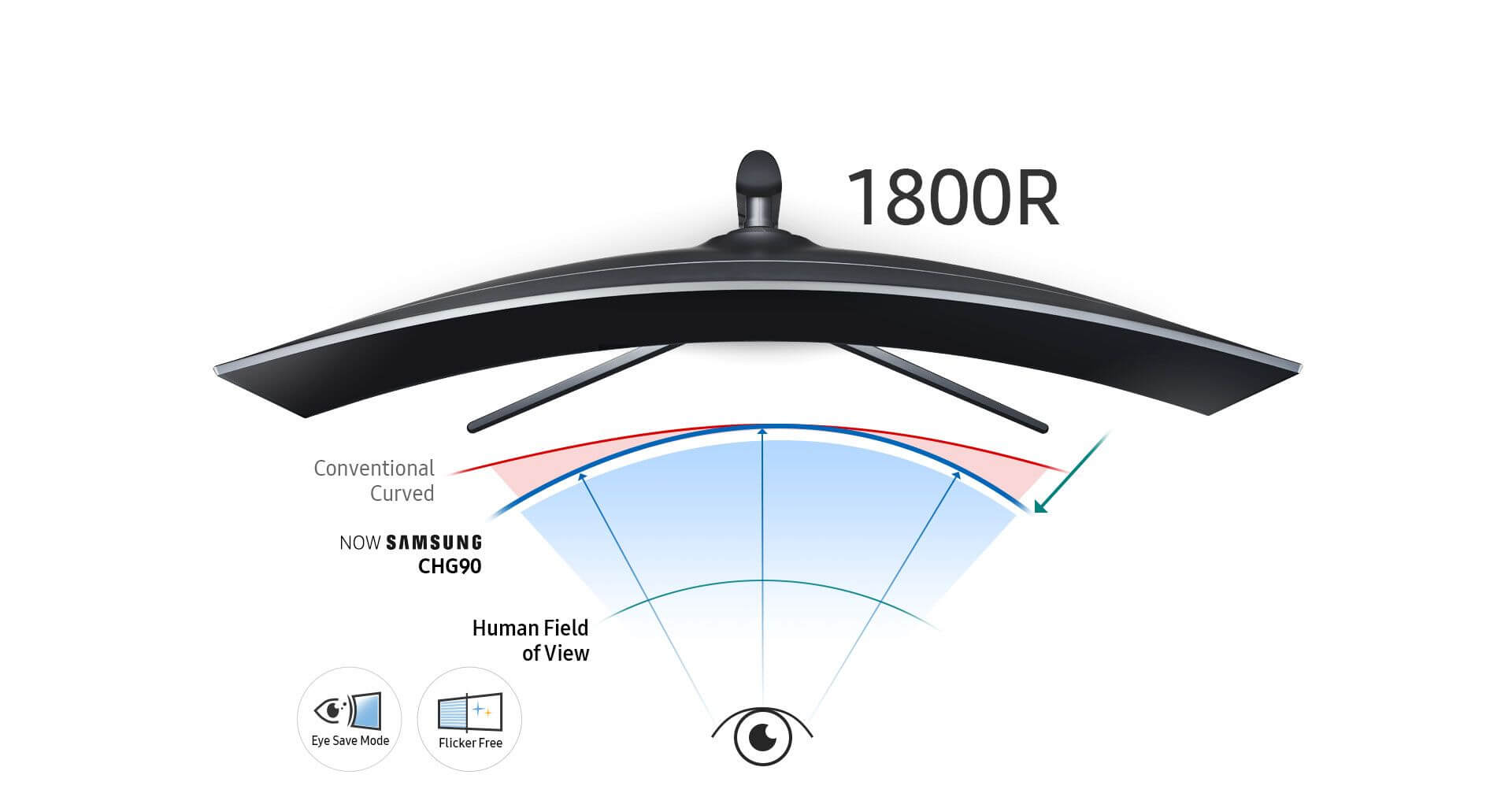 Enhanced speed and fine control
The superfast response time, 144hz screen refresh rate, and AMD freeSync maximize productivity when working with photo and video files, ensure smoother display and playback, and provide fine cursor control for accuracy. With the CHG90, you can handle even the most demanding tasks with ease.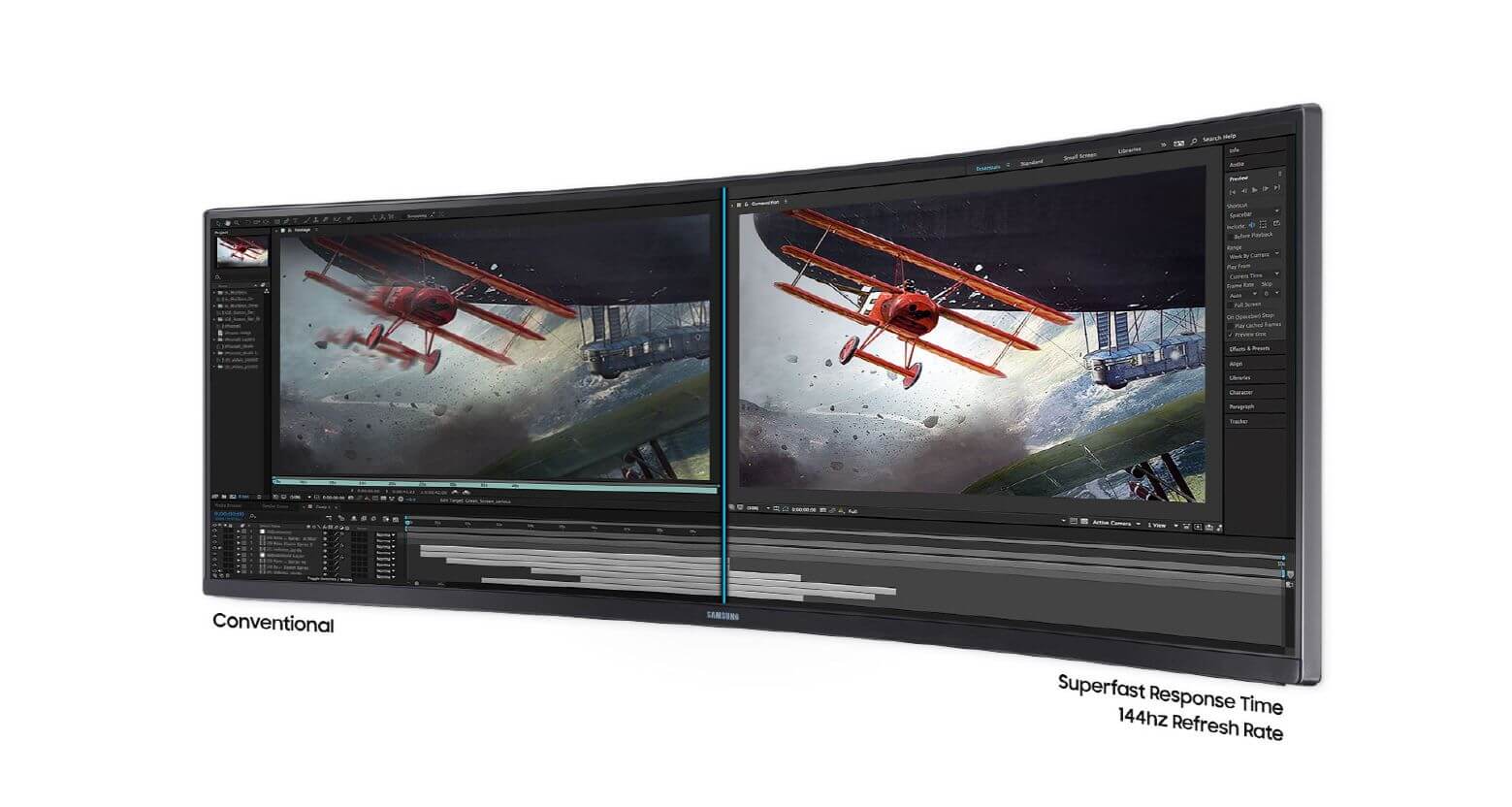 Increase your ergonomic efficiency
It swivels, tilts, and is height-adjustable, compatible with VESA-standard monitor arms. With these functions at your disposal, you can effortlessly position your screen at whatever height and angle you want and share the onscreen content with nearby coworkers.
Multiple input ports that connect to any device
Featuring DP, Mini-DP and multiple HDMI and USB ports, the CHG90 lets you connect almost any device you can imagine with minimum fuss. So, whatever device you, your colleagues, or your clients choose to use, you can always rely on the CHG90
HDR changes the game

The CHG90 features support for HDR, so dark areas are darker and bright areas are brighter. See mind-blowing detail and contrast as bright blue skies share the screen with deep shadows and silhouettes.
Smoother gameplay

The fast screen refresh rate ensures you flawlessly smooth action scenes even in games with high frame rates. And you can adjust the refresh rate when necessary.

Play for longer

The CHG90 features an eye-saver mode which cuts down blue light emissions to a substantial extent. So, play on with reduced eyestrain and greater visual comfort.

Seamless multitasking

Equivalent to two 16:9 monitors side by side, the 32:9 super ultra-wide screen provides the ultimate in multitasking flexibility.
49" Quantum Dot HDR 32:9 FreeSync2 Gaming Monitor
• Resolution: 3840x1080
• 144Hz 1ms (mprt)
• Colour Gamut (NTSC 1976) Typ 88%, Min 84%
• sRGB 125% typical, Min 120%
• Adobe Typ RGB 92%, Min 88%. Brightness up to 600cd/m2
• Brightness up to 600cd/m2
• Screen Curvature 1,800 R
• Aspect Ratio 32:9
• Panel Type VA
• Contrast Ratio Static 3,000:1(Typ),2,400:1(Min)
• Dynamic Contrast Ratio Mega
• HDR(High Dynamic Range) Yes
• Response Time 1(MPRT)
• Viewing Angle (H/V) 178°(H)/178°(V)
• Color Support 1.07 B
• Refresh Rate 144 Hz
• Set Dimension with Stand (WxHxD)
1,203.0x525.5x381.6 mm
• Dimension without Stand (WxHxD)
1,203.0x369.4x194.4 mm
Payment & Security
Your payment information is processed securely. We do not store credit card details nor have access to your credit card information.