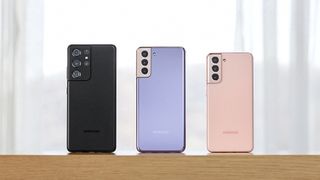 (Image credit: Samsung )
The Samsung Galaxy S22 – the tech titan's next flagship mobile – is expected to arrive in 2022. It's tipped for a 120Hz display, ultra-fast chip (possibly with its own cooling fan), and even a camera with no fewer than five lenses.
It seems like only yesterday that the Samsung Galaxy S21 hit stores, but Samsung isn't one to rest on its laurels. The company launches a new Galaxy S series mobile every year without fail, which is why the Galaxy S22 is expected to launch in early 2022.
But how will the Galaxy S22 compare to the Apple iPhone 13? What exclusive features will it offer? Will it be cheaper than rival smartphones? The launch is still a few months off, but the rumours are building. We've examined all of the leaks, tips and rumours to get a good idea of what Samsung has in store with its next flagship phone. 
Samsung Galaxy S22: release date
Samsung launches a new flagship Android phone at the beginning of every year, like clockwork. Last year it was Galaxy S21, which debuted on 14th January 2021 (a few weeks earlier than the tech titan's usual February/March window). 
That obviously indicates that the Galaxy S22 release date is likely to be early 2022. In fact, according to Korea's Pulse News, "multiple industry sources" have pegged the S22 for a January release. Samsung seems to favour Fridays, so there's some talk of the S22 breaking cover on Friday 28th January 2022.
We'll have to see. Tech analyst Jon Prosser correctly predicted the launch of the last Galaxy phone, so we'll be keeping a close eye on his Twitter feed towards the close of 2021.
Samsung Galaxy S22: price
With no credible price leaks to go by, the cost of the Samsung Galaxy S22 is somewhat of a mystery. The Samsung S21 range debuted at less than the S20, so will the S22 be cheaper still?